German artist
Katrin Schacke
:
*

Rethinking Academic Discourse:
A Poetic Approach to Intellectual Endeavor
Andrea Custodi
The George Washington University
Is there a rule in academia that says
you've got to fill up a page to sound smart?
if there is isn't
then why does everybody think they have to?
and if there is
then why does it seem that no one has thought to break it?
I am advocating a new approach to intellectual endeavor –
a poetic approach –
an approach that is
artistic
creative
yet grounded –
consciously performative
yet nonetheless sincere –
eminently playful
yet very much in the spirit of backgammon.
My starting point is the postmodern and deconstructive
challenge to intellectual tradition,
which I find powerful and compelling
but not effectively realized
in the works of the theorists who propone it.
...[continue reading
here
]
*

Thanks to
E.P.B.B
for pointing this out:
Alice in Wonderland or Who is Guy Debord? (excerpt 1)
Directed by
Robert Cauble
[you can view the entire film
here
]
*

"The Seagulls Inside My Head"
essay on experimental fiction by
Daniel Green
*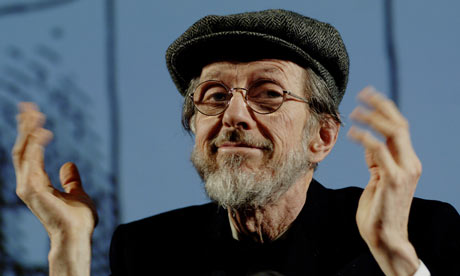 *

"Claudia Heuermann's
A Bookshelf On Top of the Sky
gives us a rare peek into the working methods of one of the most notorious and reclusive composers on the scene today. Filmed over a ten year period, this documentary includes live footage of Masada, Naked City, Cobra, as well as improvisations, his classical work and rare interviews. A prize winner at European festivals, this film documents Heuermann's very personal, fifteen year odyssey with the music of John Zorn. At times frightening, at times hilarious, at times frighteningly hilarious."
[It's available on Netflix as a "watch it now" title]

*

"Ben Marcus was incredibly helpful, a great inspiration. He had this thing where he'd caution us against "aboutness." You shouldn't try to make your stories be "about" something, he would say."
*

Making Sense of Marcel Duchamp
"takes you on a journey through the art and ideas of the most influential artist of the 20th century. Animations and interactivity make ideas come alive with an immediacy that only multimedia can provide: you can spin the Bicycle Wheel, shake With Hidden Noise, and manipulate the elaborate allegorical automata of The Bride Stripped Bare by Her Bachelors, Even."
*

"A live recording of the complete experimental opera, "That Morning Thing" by Robert Ashley, possibly from the Dec. 8, 1969 performance at Mills College. Composed in 1967 this was Ashley's second foray into the realm of avant-garde musical theater, and is a work for five principal voices, eight dancers, women's chorus and tape."
*

Thanks to
Ken
for sending this work my way!
Josh Poehlein
's Modern History is a series of collages assembled exclusively from screen grabs of Youtube videos: