Marion Peck
lives in Eagle Rock, CA:
*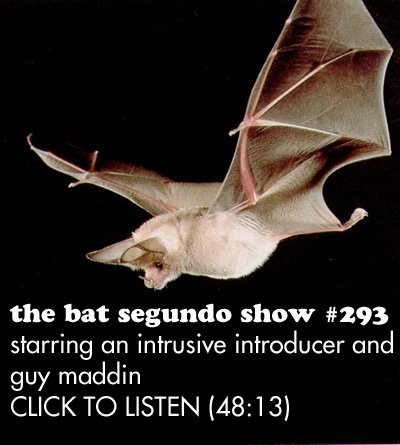 *

"Where's the beginning and the ending of the theater, the building which houses this evening's drama? This is one of the first questions I ask when I'm reading Antonin Artaud. Artaud no longer seems to think of the theater as inhabiting a particular space, just as there is no longer a space in the world uncontaminated by his theater. His is a theater as big as the world. No part of our lives is untouched by the need for its spectacle."
*

God Help the Girl - "Come Monday Night"
directed by Blair Young and Stuart Murdoch


*

*

"What is the everyday? This question might seem unnecessary and superfluous. Are we not surrounded by it, steeped in it? Is it not something we can know and understand naturally, something we can safely take for granted? As Ben Highmore writes in the introduction to his Everyday Life Reader, "It is to the everyday that we consign that which no longer holds our attention. Things become 'everyday' by becoming invisible, unnoticed, part of the furniture. And if familiarity does not always breed contempt, it does encourage neglect" (2002, p. 21)."
"Experiencing the Everyday in Maurice Blanchot's "Everyday Speech"
by
Siobhan Lynch
*

British artist
Chris Pell
:
*

Fiona Apple - "Across the Universe"
directed by Paul Thomas Anderson


*

*

*

"Poetry is not functionless. It has many functions, as address, as connector, as trace, as "energy construct." (I always liked that collocation.)"
"ornament is neither functionless nor superfluous"
by
Nada Gordon
*