Three Undated and Untitled pieces by a lovesick, Magritte-inspired artist/illustrator named
Rafal Olbinski: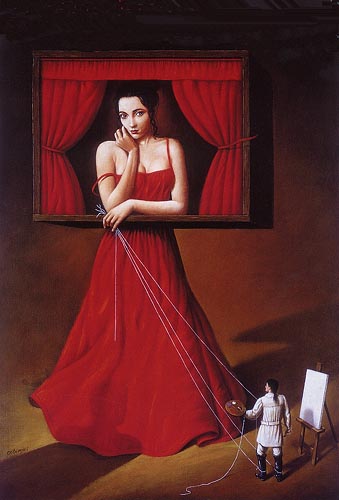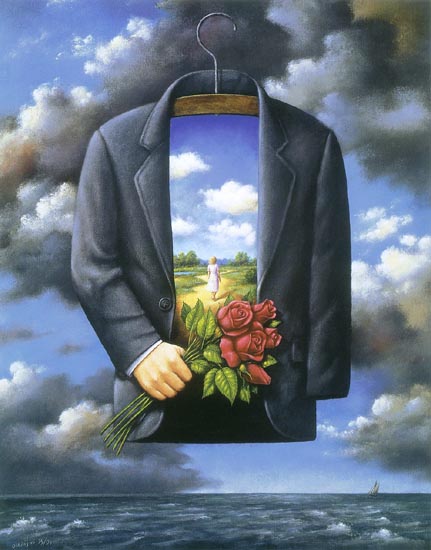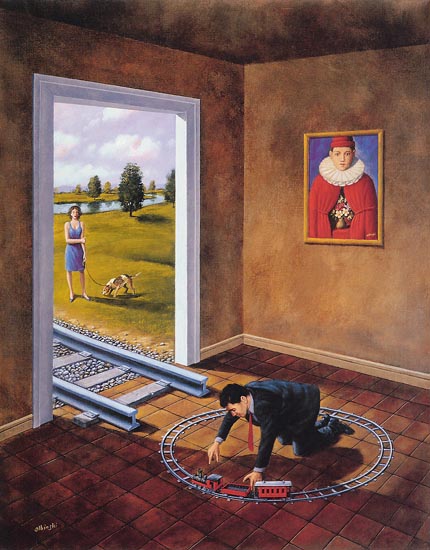 I've been listening to a particular song on repeat. It's an older tune, but stellar nonetheless. For years I've listened to it with a certain understanding, a certain set of experiences; but recently I've come to appreciate a whole other level of relevant emotional underpinnings embedded in this song.
If you have a copy of the Doves album
Lost Souls
, why don't you pop it in and give this song a listen. If you don't have the album, I highly recommend getting it.
Like American Analog Set's
Know By Heart
, Radiohead's
Kid A
, or Dianogah's
Millions of Brazilians
, it's one of those discs you can listen to from beginning to end, over and over with pleasure. This song especially stands out, if not for the drums or the hand clapping or even the complex dramatic structure, but more basically for the way in which the lead singer (Jimi Goodwin) croons the words, "I tried to sleep alone/but I couldn't do it."
Gets under your skin and pushes the goosebumps up.
Here are the lyrics:
The Cedar Room
Stars leave the morning
Sleep clouds my view
Don't let them come round here
And call to you
I didn't notice
It's a crime too few
I didn't know it's
A crime to feel
And I tried to sleep alone
But I couldn't do it
You could be sitting next to me
And I wouldn't know it
If I told you you were wrong
I don't remember saying
I don't remember saying
I don't remember saying
I'll be a shadow
In the cedar room
And leave just a memory
Alone with you
I didn't see that
It's a call too soon
I couldn't see that
It's a call to you
And I tried to sleep alone
But I couldn't do it
You could be sitting next to me
And I wouldn't know it
If I told you you were wrong
I don't remember saying
I don't remember saying
I don't remember saying